Contributors
^ TOP
Michael Booth QC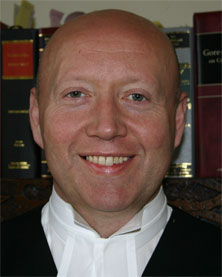 Michael Booth QC has been in silk for seven years. Born into a working-class family in Salford, after being educated at local authority schools he won a scholarship to Manchester Grammar School, and from there an open scholarship to Trinity College Cambridge to read law. He was President of the Cambridge Union Society in Michaelmas 1979.
In the 2006 Chambers Guide to the Bar he is described as follows: "a "formidable opponent" in the courtroom and "second to none" in cross-examination."; ""Resolute and direct," ... applauded by solicitors for his "stress-free handling of even the most convoluted of cases." "; " "streetfighter" Michael Booth QC takes a "direct, practical approach to cases "that endears him to clients." ".
As well as being able to conduct the cases themselves, Michael relates well to both solicitors and clients and the issues they have to deal with, and is very good at making sure that counsel solicitors and client work as a unified team.
Michael's areas of practice range over a number of commercial and chancery topics, including company and insolvency, partnership, property, civil fraud, breach of trust and fiduciary duty, banking, professional negligence, general commercial litigation (including that with a scientific or technical content) and breach of confidence/copyright. He has been involved in a number of cases relating to the internet both as regards the nature of sites (passing off and trade mark infringement) and their content (defamation malicious falsehood and breach of copyright). He has lectured for the Chancery Bar Association on money laundering (session presided upon by Lord Justice Lloyd) and has also presented training talks for solicitors on this topic. He has undertaken numerous trials, and has also appeared in various appellate cases both in the Court of Appeal and before the Law Lords. He is equally at home making legal submissions in complex legal matters or conducting cross-examinations with a variety of witnesses.
He has undertaken cases as diverse as suing the Chief Rabbi on behalf of a local rabbi (R v Chief Rabbi, ex p. Wachmann [1992] 1 WLR 1036), litigation regarding the Restrictive Trade Practices Act (Dale Farm Dairy Group Ltd v Akram [1998] ICR 349), acting on behalf of the Ministry of Defence in a key case concerning government ability to enforce additional payments by way of overage subsequent to land sales (Ministry of Defence v Country and Metropolitan Homes (Rissington) Ltd Times Law Reports 7th November 2002), rights arising under a large-scale development contract and continuing occupation thereafter (B&Q plc v Liverpool and Lancashire Properties Ltd 81 P & CR 246 ), jurisdictional issues (Greenwich Ltd v National Westminster Bank plc [1999] 2 Lloyds Rep. 308), the necessary elements of fraud claims (Parker v Snyder and others - [2003] All ER (D) 07 ), and statutory interpretation of charging rights (Mount Murray Country Club Ltd and another v Department of Transport of the Isle of Man (PC). [2004] All ER (D) 379 (Dec) [2004] UKPC 57.). He also acted for one of the country's best-known pop stars in suppressing the dissemination of defamatory allegations. Over the past few years he has been involved in two very lengthy civil fraud trials.
His practice has taken him to the Caribbean, Northern Ireland, the Isle of Man, the Channel Islands and Belgium, as well as all parts of England.
Amongst the cases he is presently instructed or has been recently instructed on are: an appeal to the Privy Council regarding change to the proper law of a trust; two separate defamation cases relating to internet and repeat mobile phone dialling defamation, both on behalf of different individuals listed in the last UK Rich List as having an net worth exceeding GBP 500 million; a multi-million-pound property deal dispute; a breach of duty claim in the Isle of Man where the amount at stake exceeds GBP 100 million; the brief for one of the directors in the directors' disqualification proceedings arising from the collapse of the Accident Group; a substantial breach of fiduciary duty and conspiracy claim on behalf of a long-established company against departing directors and employees; a claim against a major bank relating to conduct of an investment portfolio and alleged failure to comply with Financial Services law.
He is a member of the Chancery Bar Association and an associate member of the American Bar Association.
Michael is interested in many sports, keep fit, hill-walking, current affairs, literature, history, science, travel and wine. He is a member of the Alexander in Afghanistan project, (relating to the history of Alexander the Great) and in 2004 went across Afghanistan taking DNA samples